Project Manager Resume Writing
Project manager is a wide-reaching job title, and one that pops up in nearly every industry. Although the exact occupational duties and goals of a project manager vary from industry to industry, at the core of any project manager there remain certain key skills and competencies that are required in order to be effective at your job. On this page we provide a project manager resume sample, written by a professional resume writer – it's been crafted to give you an idea of exactly what your project manager resume should look like, regardless of your industry. From formatting and layout to content selection and wording, below you'll find all you need to write a job-winning project manager resume. Enjoy!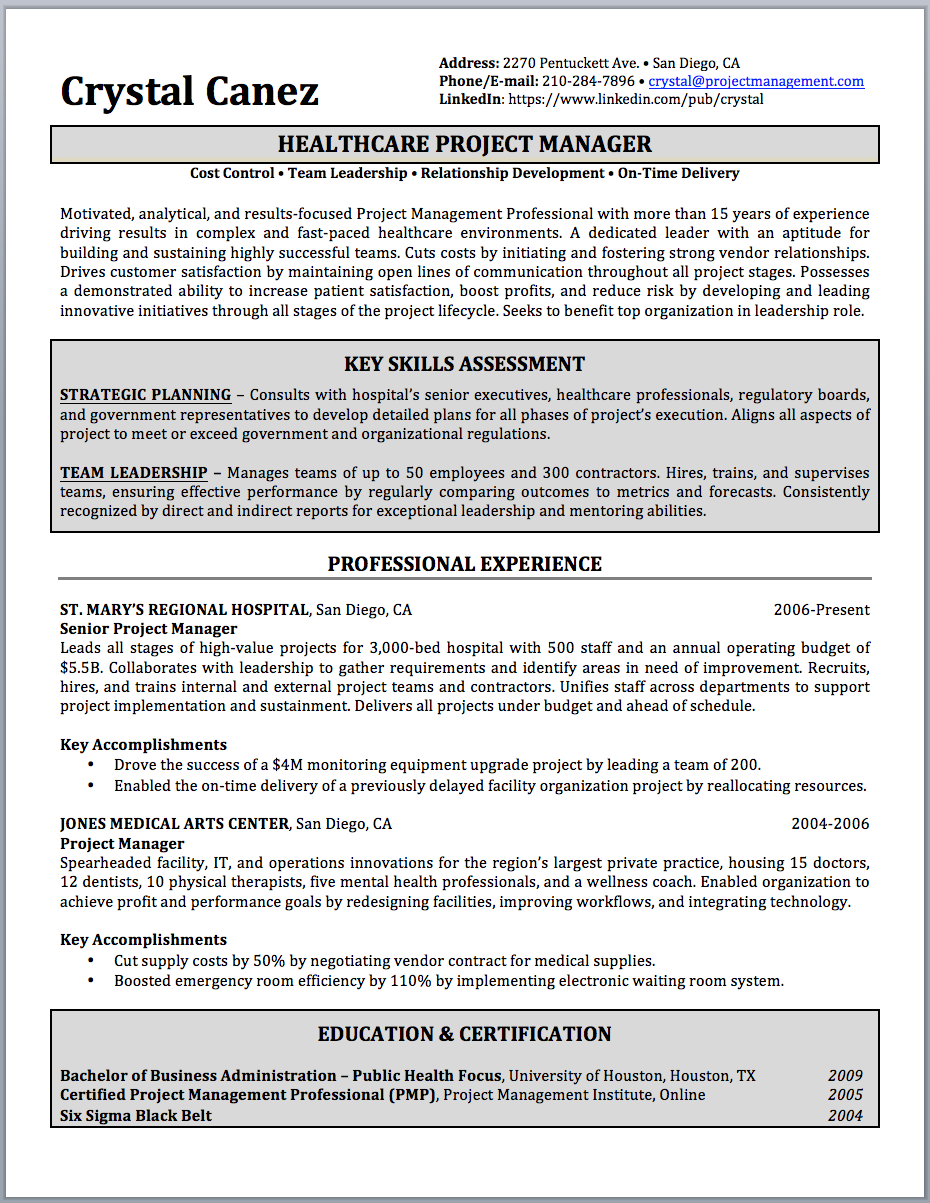 Need a job winning resume? Have a certified resume writer create your resume now, and start sitting more interviews! Check our plans & pricing or call 1866-706-0973 today
6 Reasons Why This Project Manager Resume Is Better Than The Rest
Contact details include Linkedin
The most effective resumes are short and concise, and designed to garner enough interest to earn a call from the hiring manager. Unfortunately, a lot of job seekers fail to achieve this, instead feeling compelled to include extensive work history information. Thankfully, Linkedin now provides a place where all this information can be displayed. To help save space on your resume, simply list your LinkedIn details at the top of the resume; the hiring manager is then left with a concise, high impact resume, along with the option of visiting your LinkedIn profile where they can find all the additional details they may desire.
Professional headline
To ensure you stand out from the stack of other resumes, a professional headline is a must on any project manager resume. It clearly identifies you as a specialist, rather than just someone with project management experience. Your professional headline can be accompanied by some key skills, highlighting your areas of expertise while also helping keyword optimize your resume.
Career Summary or Profile Section
These days, a resume needs to consist of more than just a reverse-chronological summary of your work history. The most effective resumes incorporate a range of sections and format techniques, to help engage the reader. A professional profile is the most effective way at engaging a reader early on; this section should include a summary of your professional qualities and achievements, along with your future goals and objective. It serves to introduce you as a professional, helping the reader gain a greater understanding of you as an individual.
Key Skills Assessment
Its incredible how many resumes exist that completely fail to identify what exactly the persons strengths and specialist skills are. Chronological resumes with endless bullet points listing duties are an example of this; the reader has to scan through all the small boring day-to-day details to extract the information they're after. don't make this mistake. Create a unique section, early on within your resume, and clearly cite your exact specialist skills. Better still,  couple these specialist skills with actual experience you have, as you can see above in this project manager resume sample.
Accomplishment focused summary of professional experience
When a hiring manager looks at a resume, he/she wants to know you can not only perform the job they have available, but they you can do it well. What better way to impress, than to cite previous success? Make sure your project manager resume includes specific details from previous project where you were successful, and avoid boring them with all the minor details of what you did day to day.
Quantified achievements
To really help engage the reader, you should include numbers within the content of your resume wherever possible. You'll notice that exact budget figures, ward sizes, staff sizes, and other numerical data has been included within the body of the project manager resume above. These numbers really jumps off the page and immediately catches your eye when skim reading. Use this same technique when writing your own resume to help slow the reader down and ensure they absorb at least some of the important information contained within your resume.
Get Your Resume Written By A Professional Resume Writer today!
Resume writing services are a guaranteed way for you to increase your chances of job success. Our expert writers understand exactly how to market your career information in a way that earns you interviews, based on your unique job goals and work background. We offer a range of services for different levels of experience, starting from just $99. Give us a call today to speak to a resume expert at 1866-706-0973, or check out our plans and pricing page for more information.