Do you need help writing your resume? Are you looking for an administrative assistant resume sample? Then you've come to the right place. Below you can find an administrative assistant resume sample, developed by professional resume writers. It showcases a unique layout, professional formatting and well written content that will quickly earn interviews. If you're impressed with this resume you can have an RWD resume writer craft your resume for you. We provide resume writing services for all industries and occupations, that match you with a certified writer.
If you would prefer to try writing your own resume then keep on reading! Below we offer our detailed administrative assistant resume writing guide, packed with expert advice and useful writing tips. Feel free to leave comments or questions at the bottom of this article, our resume experts happy to talk and share their knowledge.
Administrative Assistant Resume Sample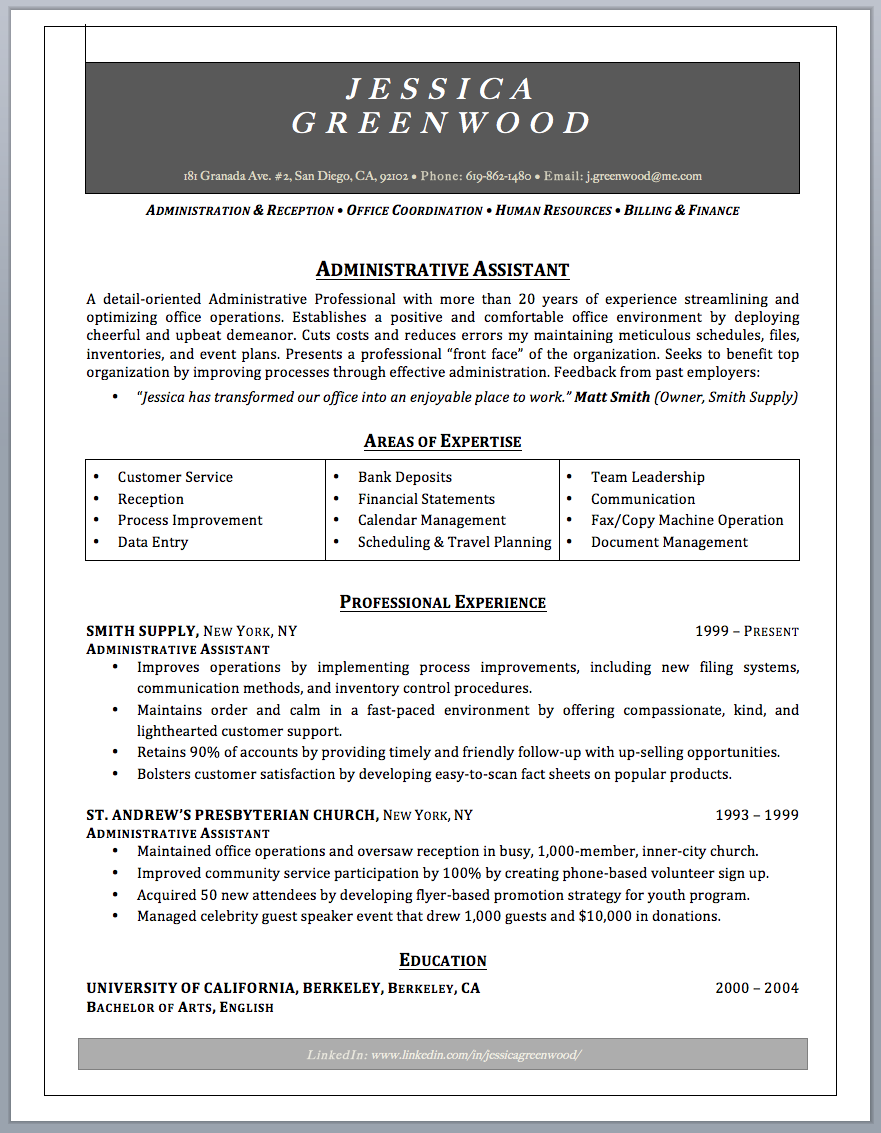 Resume Format and Style
When choosing a layout for an administrative assistant resume, it's important to select an appropriate format that best presents your career history – you can read more about choosing the best resume format here. Your work is ultimately reflected in your resume; as someone largely involved with office work, a professional looking layout implementing a variety of styling techniques will also help you stand out, while at the same time showcase your computer skills. Be aware that a poorly formatted messy resumes will be a bad representation of your work style. Equally, a very basic looking resume will infer a lack word processing skills – something essential to your job.
Personal Branding
A resume shouldn't just introduce the reader to your career and work history, it should strategically market your personal brand – a brand that labels you a specialist and a professional within your industry. To achieve this, a headline can be included at the top of your resume. This is the headline used in our resume sample above:
Administration & Reception – Office Coordination – Human Resources – Billing & Finance
Below there is a second headline saying:
Administrative Assistant
Building your personal brand is a subtle process, but highly effective at sending a message to the hiring manager that you're a professional with the right expertise and specialization.
The headline helps you stand out from other applicants by identifying you not just as a someone with admin experience, but as a professional administrative assistant – a specialist in your field. This sort of personal brand building is an incredibly effective technique developed and implemented by our professional resume writers. The goal is to make anyone involved in the hiring process view you as an expert in your field. For example, if I asked you if you knew any lawyers, or accountants, or doctors, there may be one or two people in particular that spring to your mind. This association between the person's identity and their occupation is what you're trying to achieve.
Building your personal brand is quite a subtle process, but highly effective at sending a message to the hiring manager that you're a professional with the right expertise and specialization. Most importantly, building a personal brand is something anyone can do – whether you've been an administrative assistant your entire career, or you're seeking your first job in this industry, you can implement certain resume writing techniques to help build your personal brand.
Why not have your resume written by a certified writer? For a free consultation with a resume expert Call now 1866-706-0973!
Professional Profile Section
Based on feedback from hiring managers, and the success rate of various resumes, it's become widely accepted that a Career Objective section is no longer effective and shouldn't be used on a resume. Most hiring managers ask for a cover letter anyway, which serves the same purpose as a career objective, while in recent years our writers have found that a profile section seems to more effectively engage the reader and is a better way to utilize the first 1/3rd of the resume in order to highlight key selling points.
Check out the profile section on this administrative assistant resume sample – you'll see that in only 3-4 short sentences, written in a concise manner using active language, you can really increase the impact of your resume. Remember, most home-written resumes are just a list of work history and job duties, so by combining personal branding with active marketing techniques, you'll really help sell yourself and quickly be identified as the top choice for interview.
References and Quotes
Since LinkedIn has become a central tool in anyone job search, make sure your profile is well set up. Before you begin your job search, approach previous colleagues and managers and ask them to provide you with a recommendation. These can be sourced for use on your resume – our administrative assistant resume sample shows how such a quote can be incorporated:
"Jessica has transformed our office into an enjoyable place to work." Matt Smith (Owner, Smith Supply)
Key Skills and Experience
What exactly makes a good professional experience section? This is certainly one part of a resume where professional resume writers really make a difference. Selecting content when developing your own resume can be difficult, since most people are reluctant to leave out work experience, and often go into far too much detail about each job they've held. A professional resume writer instead has perspective, and is able to objectively assess your work history, select what's relevant, then use accurate and compelling language to showcase this experience.
Notice how this administrative assistant resume sample doesn't include endless lists of bullet points about job duties. Instead, the resume demonstrates what the person achieved and what made them good at the job they do. An achievement-focused resume will directly identify you as someone worth giving an interview. Show the reader what you did well in your previous jobs, and exactly what you accomplished – and keep it concise. The fictional work history shown in this administrative assistant resume sample dates back 20 years, yet the resume is only one page long.
Writing a Professional Experience Section: Top Tips
Use bullet points to help improve readability
Start each bullet point with action verb
Pay attention to your use of tense. Notice how the sample uses present tense for the current job and past tense for previous jobs. Many resumes mix up present & past tense – as an administrative assistant you need an eye for detail, don't let yourself down here!
Quantify your achievements wherever possible. Our professional resume writer used percentages, dollar figures and other numbers to represent achievements, helping them stand out while boosting overall readability.
Education Section
Any essential education worth showcasing should certainly be included on your resume, but remember you will be competing against other applicants who will probably have the same academic qualifications as you. Since this is not something that will determine whether you get the job or not, then it can come last on your resume. If however, you have specific qualifications that separate you from other applicants, consider including these further up your resume.
Pay Attention to Detail
The neat appearance of this resume is one of it's best qualities, but there are also minor details that contribute to the resume's effectiveness. Notice how the LinkedIn profile URL has been included in the footer. The writer also utilized subtle bordering, and shaded boxes for both the footer and the contact details section – these small differences contribute a lot to the overall initial impact a resume has on the reader.
Did You Like This Post? If you found this article useful, or you have questions for our resume experts then have your say! Leave your comments below and start the discussion. We will be quick to reply and welcome your input!
Sit More Interviews… Don't waste any more chances by applying with a sub-standard resume. Have your resume professionally written by a specialist writer and start generating more interviews today. We offer a range of plans and pricing for different levels of experience – all our resumes are custom written from scratch and come with a money back satisfaction guarantee.
And, just for reading our administrative assistant resume sample page, we also offer a discount on the cost of having your resume written by a professional resume writer. Simply quote blogreader when contacting our resume experts at 1866-706-0973 and you'll earn a ten percent discount on the total fee for your project. Call today or visit our plans & pricing page and choose your perfect professional resume writing service.